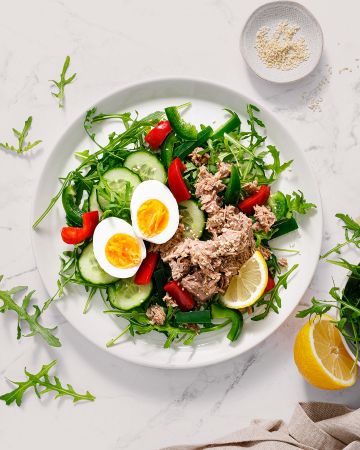 Lemon-flavoured tuna salad
Today we present a fresh and delicious salad that combines exceptional flavours with nutritious ingredients. This salad with tuna, egg, rocket, cucumber, red and green peppers, dressed with a squeeze of lemon, will surprise you with every bite.
Ingredients
Canned tuna
Fresh eggs
Fresh rocket
Crispy cucumbers
Juicy red and green peppers
Freshly squeezed lemon
Salt and pepper to taste
Bring water to the boil in a saucepan. Gently dip the eggs into the boiling water and let them cook for about 7 minutes to obtain a creamy yolk. Drain the eggs and allow them to cool before peeling them.
Thoroughly wash the rocket, cucumbers and red and green peppers. Cut the cucumbers into thin slices and the peppers into strips. Drain the tuna and crumble it with your hands. In a large bowl, mix the rocket, cucumbers, peppers and tuna.
Sprinkle lemon juice generously over the salad for a fresh touch. Add salt and pepper to taste to adjust the flavour.
Arrange the prepared salad on a serving plate. Arrange the peeled hard-boiled eggs on top of the salad, adding a pinch of salt and pepper to the eggs. Serve immediately and enjoy this explosion of fresh, healthy flavours!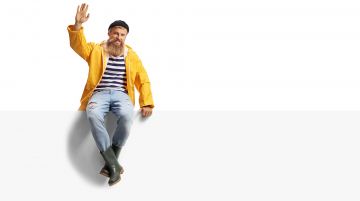 Do you need help or want to place an order?
Contact us on our phone number or by filling in the form, we will answer all your questions as soon as possible.